Devenez Divemaster avec FKD !
Vous souhaitez changer de profession ? Vous souhaitez voyager à travers le monde entier ? Si la plongée est votre passion et que vous rêvez d'en faire votre métier, venez passer votre Divemaster !
Le Divemaster est la première certification professionnelle permettant de faire de la plongée son métier. Elle vous permettra d'emmener des personnes déjà certifiées en plongée, vous serez le guide de palanquée.
PRIX
Certification et cours :
70 000 PHP
Avoir un certificat médical agrée RSTC
Etre certifié Master Diver ou équivalent
40 plongées minimum
Posséder ou acheter l'équipement de plongeur professionnel
Avoir quelques mois devant soit (2 mois minimum)
1 - Partie théorique
La formation Théorique se divise en 2 parties. D'abord le Dive Guide, qui couvre le rôle du professionnel de la plongée, la terminologie, l'histoire et la philosophie de SSI. Nous discuterons de la planification des plongées, des sorties de groupes et de toute autre activité ayant trait à la plongée. Au delà de la formation pratique pour l'encadrement, les actions sur le bateau, au club et la sécurité, nous travaillerons les briefings et la manière d'appréhender les clients.
La formation théorique du dive guide se fait généralement sur 2 séances de 2h et plusieurs petits ateliers. Et s'achèvera par un examen QCM de 50 questions.
La deuxième partie consiste à étudier le Science of Diving divisée en 5 domaines :
Physique

Physiologie

Théorie de la décompression

Équipement

Environnement
Ces parties seront étudiées avec votre instructeur. Elles comprennent chacune 2h de cours.
À la fin de celles-ci vous aurez un examen sous forme de QCM de 100 questions.
2 - Partie pratique
Pour être Divemaster vous devez bien sûr avoir des compétences professionnelles en tant que plongeur.
Vous devrez réaliser :
TESTS PHYSIQUES : NATATION et PLONGEE
Tests de nage 
700 mètres avec palmes, masque et tuba en moins de 20 minutes ou 300 mètres en nage libre
Apnée horizontale sur 25 mètres avec palmes, masque et tuba
Flottaison à la surface de l'eau pendant 15 minutes sans aide
Tirer un plongeur inconscient sur 100 mètres en moins de 8 minutes (les plongeurs seront toujours équipés)

Exercice de Stress and Rescue d'un plongeur inconscient sous l'eau et à la surface en le déséquipant.
Test de stress sur un échange d'équipement avec son binôme
Skill-circuits (apprendre à démontrer tous les exercices de l'Open Water)
Savoir s'orienter avec et sans équipement une fois immergé dans l'eau (ordinateur, compas…)
APPLICATION PEDAGOGIQUE
Présentation de la F.F.E.S.S.M

 

(Fédération Française d'Études et de Sports sous-marins)
SMB,

 

apprendre à déployer un parachute de signalisation
Plan d'évacuation,

 

savoir établir un plan d'évacuation d'urgences sur un site

 

en particulier
Briefing,

 

apprendre à faire un briefing spécifique à la plongée entretenue
Cartographie,

 

apprendre à cartographier un site sous marin
3 - Partie d'assistanat
Assister les instructeurs et divemasters de notre équipe sera certainement la partie la plus importante et la plus intéressante de votre formation. Pendant vos 2 mois d'internat, vous assisterez nos instructeurs pendant tous les cours qu'ils peuvent enseigner  : Baptêmes, Open Water, Advanced Adventurer, React Right, mais aussi tous les cours de spécialités pour lesquels vous êtes déjà certifiés. Pendant ces assistanats vous aurez l'opportunité de rafraîchir vos compétences, mais aussi des les amener au niveau supérieur.
Devenir conseiller
Vous apprendrez aussi à gérer les problèmes d'autres plongeurs, à les conseillers et pour toujours faire en sorte qu'ils progressent et qu'ils comprennent vos explications. Ce sera aussi la parfaite occasion pour voir si vous êtes fait pour enseigner la plongée.
Vous assisterez aussi notre équipe de divemasters. Vous pourrez ainsi améliorer votre navigation, la qualité de vos briefings et votre groupe contrôle en général, jusqu'à ce que vous soyez assez compétent pour pouvoir accompagner vos premiers plongeurs certifiés, tout seul, comme un Divemaster Professionnel.
4 - Partie vente et conseil
Comme toute personne du centre de plongée, le Divemaster doit être capable de renseigner les clients sur les différentes formations et aussi de les vendre. Il doit participer activement à la vie du club et donc accueillir, mettre à leur aise, renseigner et remplir les formulaires d'inscription des nouveaux clients.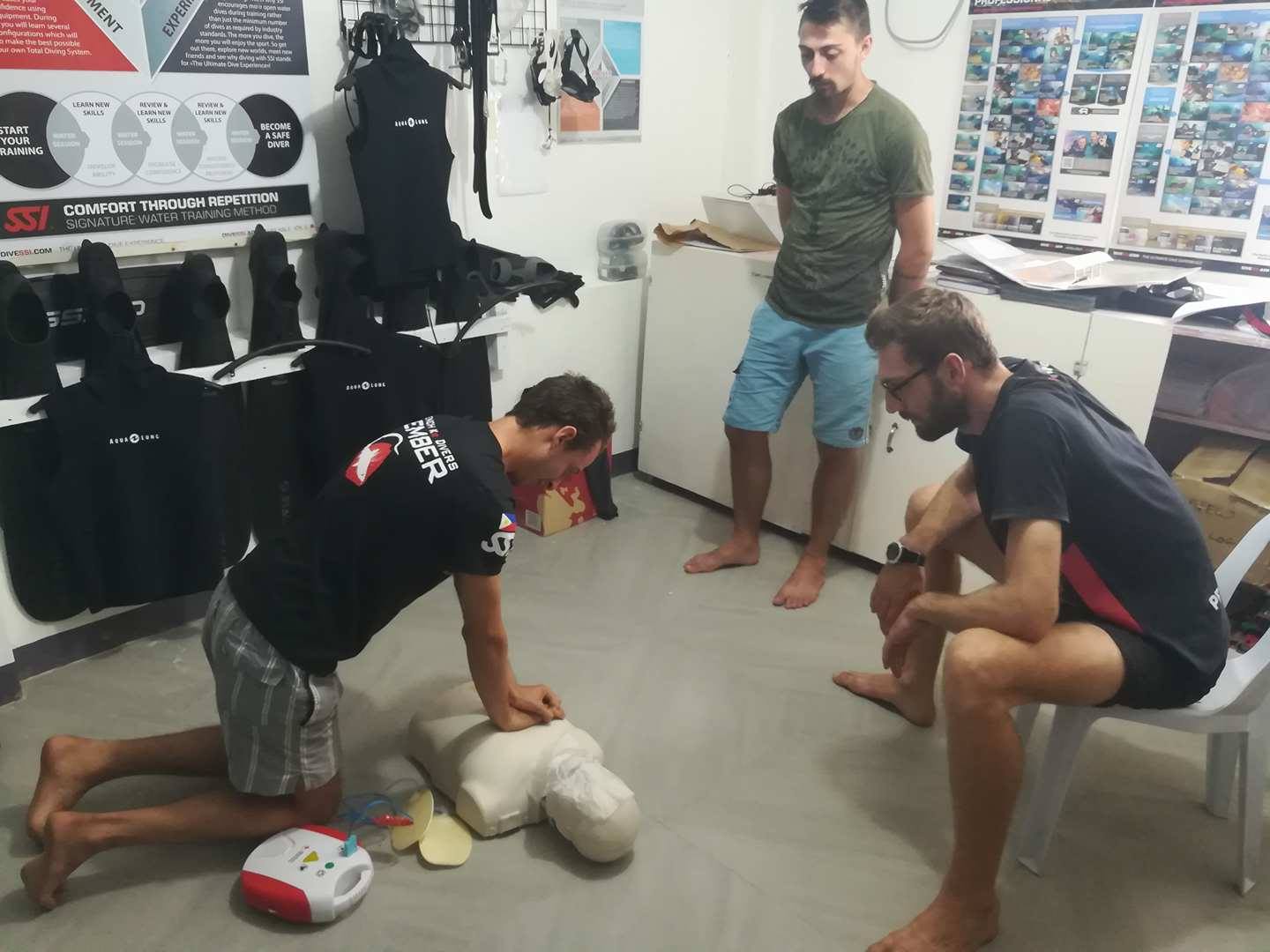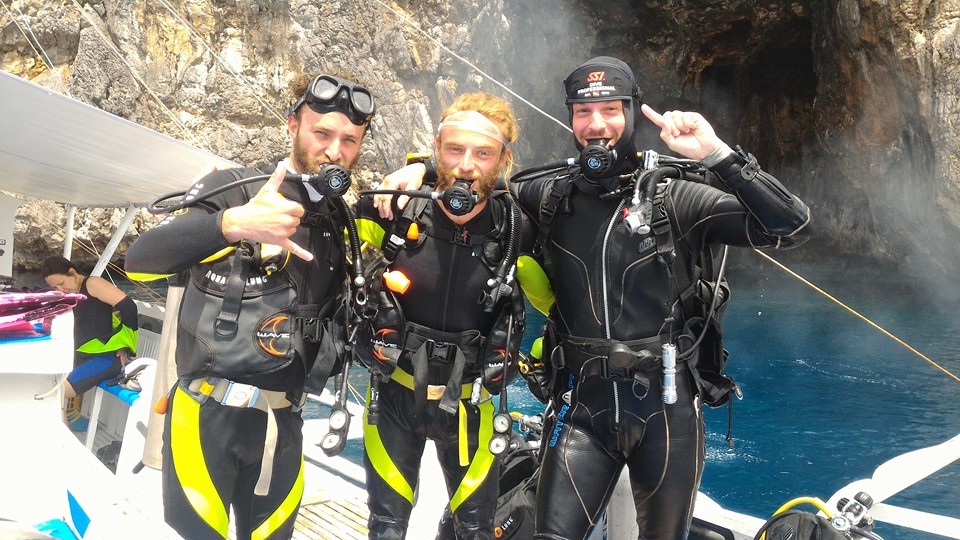 French Kiss Divers propose des formations de plongée SSI à tous les niveaux